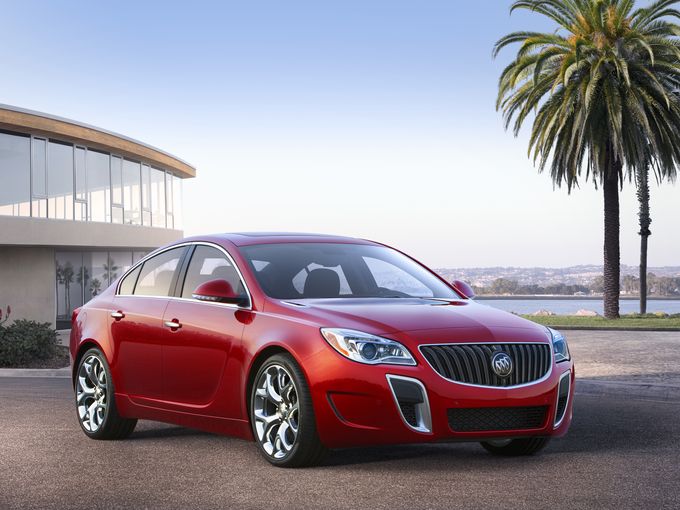 According to Consumer Reports, in a report published by
USA Today
, the Buick Regal is a better buy than a BMW 3-Series and a Mercedes 250, both of which our the Regal's main competitors. Not only did the new Buick Regal surpass the BMW and the BENZ, it also out-scored it's parent companies Cadillac ATS. The best part about all of this is, you can purchase a car that not only competes with, but excels at out scoring high-end cars while saving you thousands of dollars for the same features and performance. Below is a transcript of their report.
"
Widely consulted
Consumer Reports
says the latest Buick Regal is about the equal of the much more expensive BMW 328 and Mercedes-Benz C250.
While the publication's report is unlikely to peel BMW and M-B loyalists from their German sporty sedans, it could intercept new buyers who want that kind of performance, but aren't sure they should spend German prices.
CR: "Regal beat the Volvo S60 in a head-to-head road test. Ultimately, the Regal wound up finishing just one point shy of the class-leading BMW 328i and tied the Mercedes-Benz C250 for second place in the organization's overall ratings of upscale sport sedans — while costing thousands less."
That's probably a surprise to shoppers who haven't kept up with Buick's evolution toward sporty performance (somewhat a return to the brand's performance-oriented roots of the 1950s and 1960s), but it's no illusion.
Jake Fisher, the publication's director of automotive testing, says, "The Regal is a thoroughly developed and satisfying midsized sports sedan that's more reminiscent of a German sports car than the softly sprung luxo-barges that Buick was once known for."
The Regal bested the GM car that's positioned as a true 3 Series rival, the Cadillac ATS turbo, previously tested by the publication. The ATS did well overall, though, only a few points behind the Buick, and earned a "recommended" rating from CR.
Where the newly tested Buick and Volvo fit among the five best-rated luxury sedans in the Buick's and Volvo's size class tested by CR. Recommended models are shown with "R."
•BMW 328 xDrive all-wheel drive, $50,470 as tested, 86 of a possible 100 points.
•BMW 328i, rear-wheel drive, $43,195 as tested, 84 of 100, R.
•Buick Regal Premium 2-liter, four-cylinder turbo, front-wheel drive, $34,485 as tested, 83 of 100, R.
•Mercedes-Benz C250, rear-wheel drive, $40,750 as tested, 83 of 100, R.
•Volvo S60 T5 2-liter four-cylinder turbo, front-wheel drive, $39,920."
Call Tim Short Chevrolet, Buick, and GMC at 859-744-3564 to learn more or to get behind the wheel of a new Buick Regal today or click HERE to view our inventory.
Justin Grubb
Winchester KY